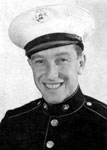 2nd Battalion / Company F
Lester was in F Co. 2nd BN 4th Marines in Shanghai. At the time he was surrendered at Corregidor he was in I Co. 3rd Bn 4th Marines. He survived two and a half years in Japanese prison camps.
He perished aboard the Arisan Maru on October 24, 1944 as he and approximately 1800 other POWs were being transferred from The Philippines to Japan. It is believed the Arisan Maru was torpedoed by an American sub. Out of the 1800 there were nine survivors.